---
Announcing our 2023 Show & Sale! SAVE THE DATES…
Friday, June 2nd & Saturday June 3rd
New location, new hours! Details below.
If you are a miniatures dealer and you wish to participate in our Show, please click HERE to contact us, or click HERE to download the Dealer Contract.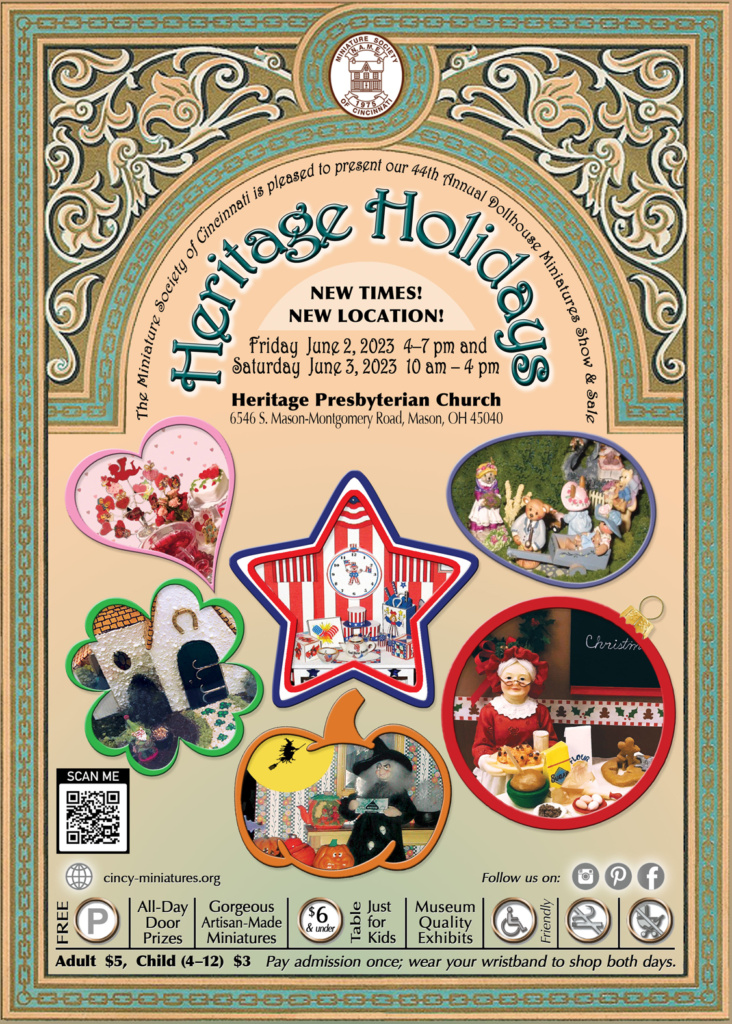 Coming to the Show
New Location As of 2023 the new home for our Show & Sale is Heritage Presbyterian Church in Mason, Ohio. There is ample free parking, and the building is handicapped accessible. From the parking lot, follow the signs to enter through the double glass doors in the courtyard. You will find our Registration table a short distance down the hall. Miniature exhibits can be viewed in nearby classrooms, and the salesroom is the gymnasium.
New Hours Our new Show hours are 4 to 7 pm Friday and 10 am to 4 pm Saturday. Pay admission only once to shop both days.
Museum Quality Exhibits Be sure to check out our members' beautifully crafted miniatures in the adjoining classrooms. With our "Heritage Holidays" theme this year, we'll be showcasing a variety of holiday traditions, in miniature of course!
Cost Admission to our sales area is $5 per adult and $3 for each child from 4 to 12 years of age (children under 4 are free, but please do NOT bring strollers or backpacks into the salesroom). Note that we accept CASH ONLY; we cannot process credit or debit cards for Show admission. Pay one admission per person, keep your wristband on, and come back to shop the second day FREE. Just show your wristband at the Registration table.
Just for Kids We have a sales table Just for Kids (12 years of age and younger), where all items are priced under $6, and they may receive a free door prize selected especially for them.
All-Day Door Prizes We announce Door Prize winners periodically all day long. Drop your door prize ticket in the chimney of the "house" near the Door Prize table. Put your tickets in early, as you MUST be present to win.
Information Table Stop by the Information table to pick up flyers about our club, miniature scales, museums, and other miniature shows.
A Few Rules
• Smoking is not permitted in the building.
• Attendee guests are not allowed to bring food or beverages into the building.
• For safety reasons, strollers, large bags, backpacks, and wheeled shopping bags or carts are NOT permitted in the building. (Wheelchairs and walkers are allowed; please be mindful of your surroundings and other patrons.)
• Many miniature items are fragile. Please monitor your children–do not allow them to touch merchandise, whether you intend to purchase or not.
• Please do not touch any of the exhibits.
• No trading, bartering, soliciting or selling. Only registered dealers who have paid table fees are permitted to sell or trade miniatures at the Show.
• The Miniature Society of Cincinnati and Heritage Presbyterian Church are not responsible for articles lost or left behind.
• We reserve the right to inspect all bags, backpacks and other containers brought onto or purchased on the premises.
Precautions During the COVID-19 Pandemic
Heritage Presbyterian Church adheres to all health protocols recommended by the CDC. They no longer require face masks; you are encouraged to wear one for your own protection. However, if any visitor is ill or running a fever, it is asked that they stay away.
Map & Directions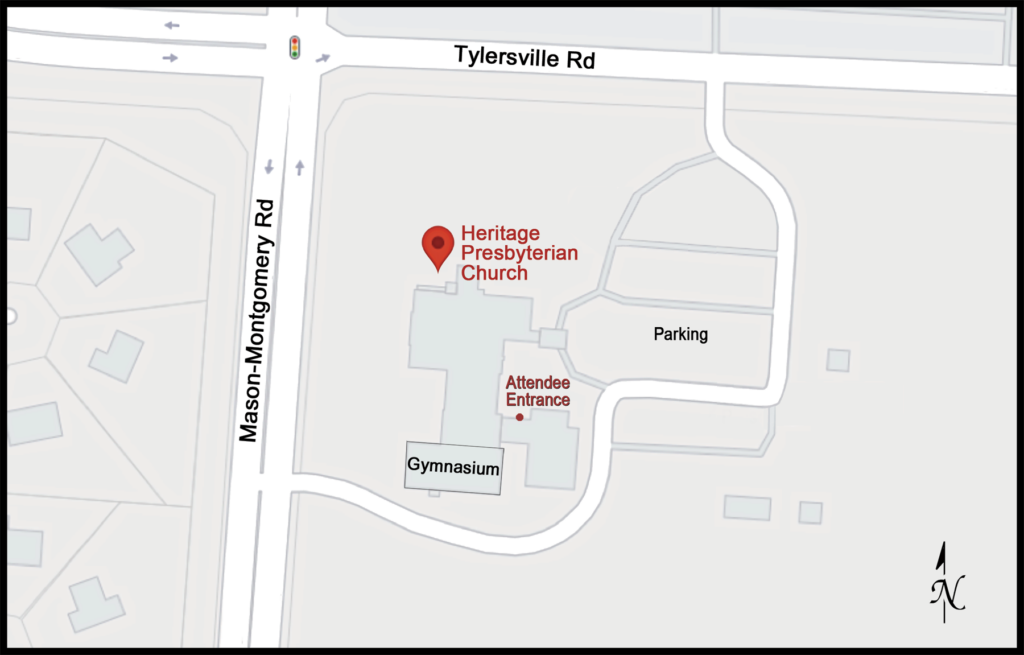 …
For interactive Google map, click HERE.
A Little History
Our 44th Annual Show & Sale… Forty-four years is a long run. What an adventure! In the early days our shows were held downtown at the Cincinnati Convention Center. MSC members who were around at the time tell wonderful stories. Apparently, the 70's and 80's were the heyday of our hobby. Our club had around 150 members and Show attendance used to be over 1500 people!
Links
• Link to watch Linda on the Cincy Lifestyle Show, Wednesday, June 23, 2021 on Channel 9 in Cincinnati, OH.
• Link to watch Linda on the Cincy Lifestyle Show, Tuesday, April 2, 2019 on Channel 9 in Cincinnati, OH.
• Link to watch Judi on the Good Morning Show, Monday, April 1, 2019 on Channel 12 in Cincinnati, OH.
• Press Release for 2023 Show & Sale (PDF)
• 2023 Show & Sale Flyer, full page in color (PDF)
• 2023 Show & Sale Flyer, full page in black & white (PDF)
• 2023 Show & Sale Flyer, 2-up in black & white for handouts (PDF)
• 2023 Dealer List TO COME (PDF)
• Cincinnati / Mason Info & Hotels (PDF)
• Warren County Visitors Guide HOTELS Excerpt (PDF)
• Warren County Visitors Guide DINING Excerpt (PDF)
• 2023 Dealer Contract (PDF)
• State of Ohio Transient Vendor's License link to form ST1-T
Note: Portable Document Format files are viewable with the free Adobe Reader program. Click here to get it.
………….If your browser is configured to allow it, these files will open in a new window.
Please see the Calendar page for information about regional shows and other special events.