---
NEW – Our 43rd Annual Show & Sale Has Been Cancelled
Due to health concerns and the current state of emergency surrounding the COVID-19 Coronavirus, the MSC Show Committee has cancelled MSC's 2020 Dollhouse Miniatures Show & Sale. We hope to resume next year. Please visit again for updates. [Dealers – We'll be contacting you with details of the cancellation.]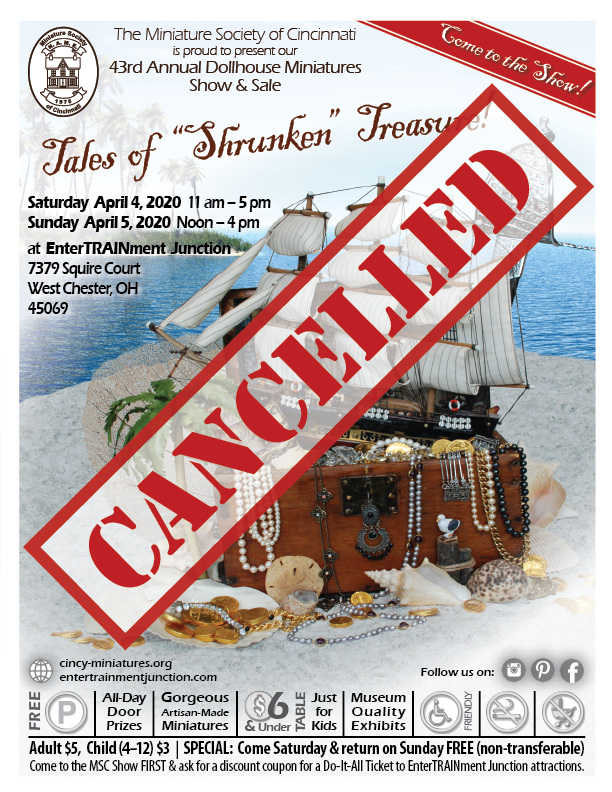 Coming to the Show
EnterTRAINment Junction is a large venue with a simulated Town Square and everything contained under one roof. There is ample free parking. As you walk in, head all the way to the back, then turn left to find our Registration Table and the Expo Center showroom. The building is handicapped accessible. If you require a wheelchair, one can be arranged through the Gift Shop.
Museum Quality Exhibits  We display our members' beautifully crafted miniatures in the General Store / Barber Shop (the corner party room across from the Expo Center), which is free and open to the public. Be sure to check it out!
Cost  Admission to our sales area is $5 per adult and $3 for each child from 4 to 12 years of age (under 4 are free, but please do not bring strollers or backpacks into the Expo Center showroom). Note that we accept CASH only; we cannot process credit or debit cards for show admission.
Second Day FREE  Plan to come both days to take advantage of our Second-Day Special: Come Saturday, keep your Program, show it at the door on Sunday to get in FREE.
Just for Kids Table  We have a sales table just for kids (12 years of age and younger) to shop, where everything is $6 and under. Grab bags are especially popular! Adults may purchase items from the Kids' Table ONLY during the last hour of the Show on Sunday.
All-Day Door Prizes  We announce Door Prize winners periodically both days, all day long. Put your door prize tickets in early, as you MUST be present to win. Adults: Drop your door prize ticket in the chimney of the "house" near the Door Prize table. Kids 12 & under: Take your door prize ticket to the Kids' Table (turn left as you enter the Expo Center and go to the end of the aisle on the left).
Information Table  Stop by the Information Table (#1) to pick up flyers about our club, miniature scales, museums, and other miniature shows.
EJ's Discount Coupon  EnterTRAINment Junction is offering our guests a special discounted rate on a Do-It-All ticket to their attractions. Come to our Show & Sale first and get your EJ's coupon at our Registration Table. The coupon is good for up to eight people but only valid for the weekend of our Show. Other restrictions may apply.
MSC Discount Coupon  We're offering $1 off an adult admission with this coupon. For your convenience, clicking on the coupon below opens a full page PDF of coupons you can print. Simply present one when you pay at the Registration Table.
A Few Rules
•  Smoking is not permitted in the building.
•  No food or beverages are allowed in the Expo Center showroom, but you can purchase them at the Junction Café and relax on the patio there.
•  For safety reasons, strollers, large bags, backpacks, and wheeled shopping bags or carts are not permitted in the Expo Center showroom.
•  Many miniature items are fragile. Please monitor your children–do not allow them to touch merchandise, whether you intend to purchase or not.
•  Please do not touch any of the exhibits.
•  No trading, bartering, soliciting or selling. Only registered dealers who have paid table fees are permitted to sell or trade miniatures at the Show.
•  The Miniature Society of Cincinnati and EnterTRAINment Junction are not responsible for articles lost or left behind.
•  We reserve the right to inspect all bags, backpacks and other containers brought onto or purchased on the premises.
Map & Directions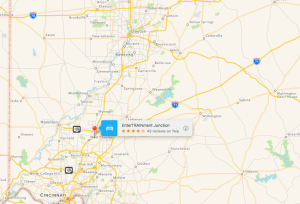 …
For interactive Google map, click here.
A Little History
Our 43rd Annual Show & Sale… Forty-three years is a long run. What an adventure! In the early days our shows were held downtown at the Cincinnati Convention Center. MSC members who were around at the time tell wonderful stories. Apparently, the 70's and 80's were the heyday of our hobby. Our club had around 150 members and Show attendance used to be over 1500 people!
Since then we've moved around a bit… In 2012 our Show moved to EnterTRAINment Junction, where our salesroom is the large Expo Center showroom. EnterTRAINment Junction is such a fitting venue, as model railroaders and miniaturists share a mutual interest in scale model miniatures (see the "About Miniature Scales" page for useful information). When you go through EnterTRAINment Junction's Train Journey, notice the buildings closest to the path–they have extremely detailed interiors. That's some of what we do!
Links
• Link to watch Linda on the Cincy Lifestyle Show, Tuesday, April 2, 2019 on Channel 9 in Cincinnati, OH.
• Link to watch Judi on the Good Morning Show, Monday, April 1, 2019 on Channel 12 in Cincinnati, OH.
• Press Release for 2020 Show & Sale (PDF)
• 2020 Show & Sale Flyer (PDF)
• 2020 Show & Sale Flyer, 2-up (PDF)
• 2020 Show & Sale Flyer, 4-up (PDF)
• 2019 Dealer List (PDF)
• EnterTRAINment Junction Brochure (PDF)
• Cincinnati / West Chester Info & Hotels (PDF)
• EnterTRAINment Junction website
• 2020 Dealer Contract (PDF)
• State of Ohio Transient Vendor's License link to form ST1-T
Note:  Portable Document Format files are viewable with the free Adobe Reader program. Click here to get it.
………….If your browser is configured to allow it, these files will open in a new window.
Please see the Calendar page for information about regional shows and other special events.