Welcome!
---
We're the Miniature Society of Cincinnati, MSC. We're a multi-talented, multi-age group of people who are passionate about the hobby of miniatures. Some of us are artisans, some of us are collectors, and most of us are quite a bit of both.
By miniatures, we are referring to 1/12th scale, also called dollhouse scale. That means that one inch in scale size equals one foot in actual size. A 3-inch tall chair would represent a 3-foot tall chair, for example. We also work in smaller scales, half- and quarter-inch to the foot and even smaller.
Our creations are as varied as authentic period roomboxes to log cabins to fantastic faerie wonderlands, from tiny scenes in pocket watch cases and tea cups to full-size dollhouses. Feel free to browse our Galleries to see some of our work.
Club membership is open to adults 16 years of age and older, no experience necessary. Come explore our miniature worlds and join the fun!
ANNOUNCING our 43rd Annual Show & Sale!
We're back! Mark your calendars… ONE DAY ONLY… Saturday, July 10th, 2021… 10 AM to 5 PM
in the Expo Center at EnterTRAINment Junction. Talk like a Pirate all day long!
See details about coming to our Show & Sale and a map on the EVENTS>MSC Show & Sale page. Access printable flyers HERE.
DEALERS – Links to the Dealer Contract and Transient Vendor License are at the bottom of the MSC Show & Sale page.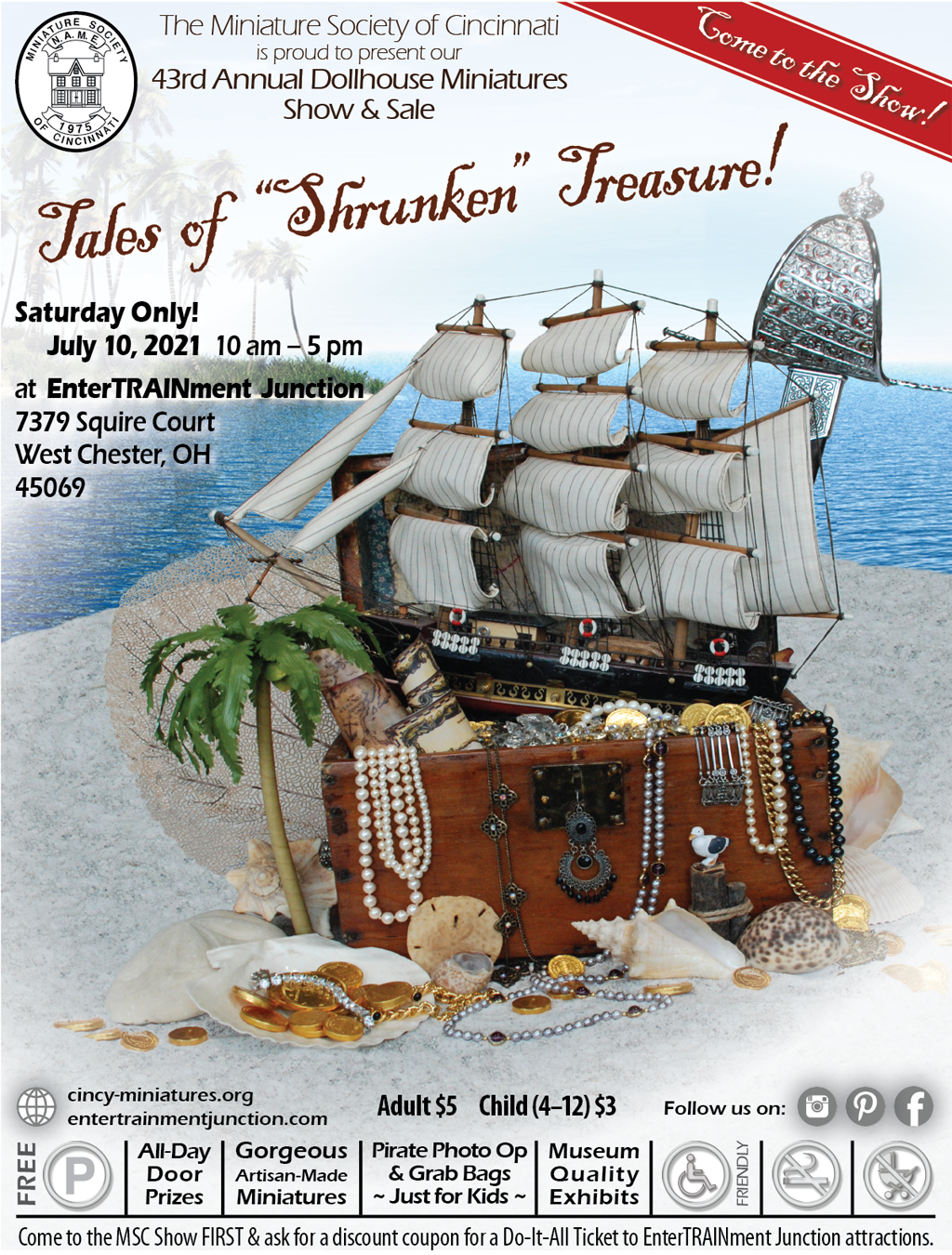 Notice about Meetings
As our communities are recovering from the COVID-19 pandemic, we are back to in-person meetings, and we also include remote participants through ZOOM. Out of respect for others, we are continuing to wear face masks. Members: Please check your email for updates and ZOOM invitations. Guests: Please check the website Meetings page for current happenings.
News
---
Summer is rapidly upon us, and our 2019 Youth Day Workshop is right around the corner. Coming July 15th at the Madeira Library from 1:30 to 3:00 PM, this program is…